PETER SHULMANS WAR
|
home
Peter Shulman Non Artistic Biographical Information
It should be noted that I Gaye Anne Shulman am the author of this page. I allowed Peter no input at all. I have been his personal trainer for 48 years (smile).
Peter born ??? Ethnic heritage ??? True age ??? Peter Shulman is the product of a black market adoption. Though he suspected this for many years it was only confirmed in 1992 after all the people in his adoptive family with direct knowledge of the circumstances were dead. He was a trophy child purchased by and brought up in a wealthy household in which he was isolated and abused both physically and mentally. That he became a fine artist and great parent is a miracle. To get some idea of how he coped with this situation when young read
Peter's War
Listed below are a just few of the other things Peter Shulman has done while creating his exciting art. This list is far from complete.
In 1978 Peter saw an ad for children's summer sculpture classes. The price for taking these classes was around $200. Peter decided that kids should not have to pay to learn and that by charging, those kids from families with low incomes would be shut out. He decided he could teach children how to sculpt the way he had taught himself when he was a child ( see Peter's War ). He approached the president of a local bank who agreed to buy the clay and sponsor the classes. The pastor of a local church allowed the use of a large room with tables and chairs and a local newspaper gave free adds. Peter then began his free sculpture classes for children that have continued for more than 40 years. Over 5000 children in five states have taken the classes and Peter still accepts limited invitations to give them. The only condition is that the classes be free.
During the years 1958 thru 1961 Peter raced corvettes in SCCA regional and national B production races in many locations in this country and others. His short career as a race driver came to an abrupt end with a crash in Mexico on new years day 1962. Among other injuries he broke his neck, had a pierced stomach and many broken bones. He was not expected to survive, the surgeons classifying his chances as very slim. It was while he was in a coma with the doctors in the room telling his adoptive father to prepare for the worst that Peter claims to have had an out of body experience floating above the doctors where he remembers telling himself "I will not die". When he quoted the doctors weeks later they where astounded because he was in a deep coma and could not, according to them, have heard what they said. Luckily for the art world and those people he was to help in the future he lived.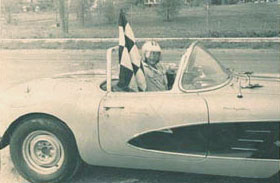 Lime Rock CT 1960
During the periods 1958 thru 1959 and 1963 thru 1968 Peter lived in Greenwich Village section of New York City. His studio was always crowded with other well known artists and friends. Peter and I first met there when Andy Warhol brought me there with a few friends in 1967.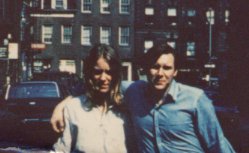 Peter and I in front of the studio on Jones Street in Greenwich Village, New York City 1967.
In 1963 Peter held the position of Deputy to the Director of Research and Planning with the New York City Department of Corrections. He wrote many papers on theories related to reducing recidivism.
In June of 1964 Peter sold his first painting becoming a professional in the art field that he has always loved. The need to eat on a regular basis kept him doing other jobs for many years. He continues to this day taking on tasks that he feels will be great life experiences.
In 1967 Peter held the position of Deputy Director of the Urban studies Division of the Simulmatics Corporation later Rand. He took teams of sociologists into Newark, New Jersey, the Watts area of Los Angeles California, Rochester, New York and the Harlem and South Bronx areas of New York City during the actual rioting. He drafted the reports given to government officials detailing reasons for the rioting and suggesting actions to prevent further turmoil. On site studies where also done when he was seconded to the U.S. government's Agency for International Development (AID) with refugee problems in South Vietnam and another country in that region. (Sorry Peter has never given me or anyone else the details of this part of his life).
In 1968 Peter ond I left New York City to live on a farm in upstate New York. It was on this farm in December 1968 that our son Peter was born. He milked 50 head of Jersey cows during his time on the farm becoming an semi-experienced dairy farmer. The farm also had a goat herd whose milk we used to make wonderful cheese and many horses which Peter rode often. We sold the farm in Salem in early 1973.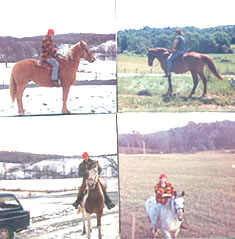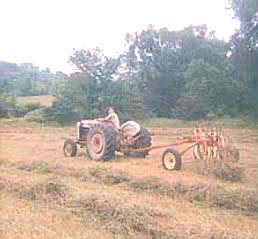 Riding various horses 1969 and raking hay 1970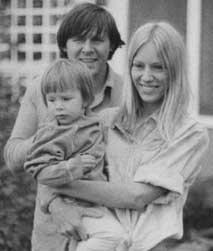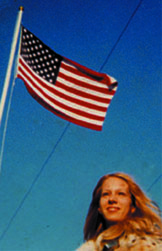 The three of us on the farm.
The winter of 1970-71 we were living and Peter was painting in the small coastal village of Puerto Cicxulub in the Yucatan Peninsula of Mexico. He befriended and helped many Mayan Indian families while living there. Peter also worked on the uncovering of Mayan structures in the overgrown Mayan city of Jibichaltun.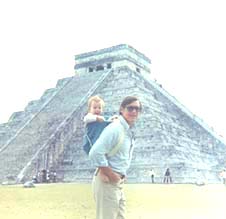 Peter and Peter Jr. in the Yucatan
During the winter of 1972 Peter was a diving instructor in Islamorada in the Florida Keys. He also collected live salt water fish for shipment to public aquariums through out the United States.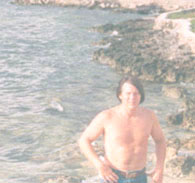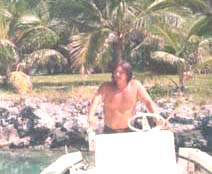 In the Florida Keys
In 1973 we moved to a large property in Wolfeboro New Hampshire. During his eleven years in Wolfeboro he devoted much of his time to public service. He was elected Police Commissioner in 1973 and held that position for four years also serving on the Governor's Crime Commission and teaching courses in rural law enforcement at Rutgers University. The Selectmen appointed him to the zoning board (ZBA) of which he became chairman. He was also appointed to the planning board which he also soon chaired becoming the only person to chair both boards in any community in New England at that time. Zoning and planning was a field where his substantial intellect could be put to good use. The zoning decisions he wrote broke new ground and although many were challenged in the courts none were ever overturned. He became a member and Vice Chairman of the regional planning commission and helped write new master plans and new zoning by-laws for Wolfeboro and other towns that aimed at preserving the environment and quality of life in those communities. He also taught classes in zoning at a university and law school. At the same time he became a member of the fire department and for more than ten years dutifully answered fire calls and actively fought fires with all the energy he could muster. It was during this time he also started the free children's sculpture courses mentioned above. When he saw that the areas natural history museum, The Libby Museum, was deteriorating he stepped forward and became its curator. The first action he took was to eliminate entrance fees for children thus making this asset available to all the children free. During his years as curator he increased the attendance at the museum by over five hundred percent, started programs that brought new exhibits into the museum, held regular art exhibits giving the local artists in this culturally barren area a venue to showcase their work, had weekly film showings bringing in nature films which where standing room only events and put together fundraising events that became so popular that attendance had to be limited. It should be noted here that at no time did he ever exhibit his own paintings at the museum only those of other artists. The success of the museum was simply due to Peter's ability to bring together a coalition of businesses, government agencies and individuals with a common goal of saving a local asset. He was also elected to serve on Wolfeboro's budget committee and chaired the committee that brought cable television to the area. When Peter decided to leave Wolfeboro he had to resign nine public positions. During his eleven years there he gave the people of Wolfeboro New Hampshire over ten thousand hours of free service and the unrestrained output of his unique mind.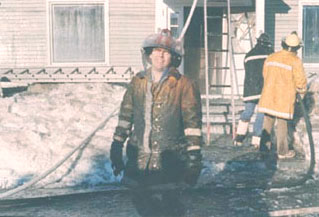 At a fire Wolfeboro NH 1980
Wanting Peter to get on with his art career in an environment more conducive to artistic endeavors we moved to Provincetown on Cape Cod in 1984. The light that had inspired so many master artists over the years stimulated him and he painted some of the finest work so far during his eight years there. Peter again let his search for new experiences drive him. He was appointed to Provincetown's Zoning Board and as in Wolfeboro soon became its chairman and again used this powerful position to help people. When not in his studio painting he could again be found giving free sculpture classes to children. He also took up a new avocation, he became a bartender. Again his urge for perfection came forth and he became a very popular bartender in a very large disco. The fact that Peter doesn't drink helped him do well as a bartender. For the first time since his days in New York City he had peers with which to associate because Provincetown is filled with fine working artists. He became a member of an exclusive artists club where he formed deep lasting friendships with many other artists.
In 1992 after selling his adoptive fathers house on Long Island Peter purchased the farm in West Fulton, New York where we now reside. Sculpture classes for children are still held when requested and once again he has horses to ride. He spends a least part of every day walking with his dogs, Willie and Reba, in the forest surrounding the farm. While in the woods he says he gets the inspiration for his paintings. To keep his mind fully occupied Peter finally went back to college. He was a matriculated student at the State University of New York carrying a full course load majoring in information technology and web development. In 2002 after completing five semesters he recieved his AA degree with a perfect 4.0 gpa. Peter has now Graduated from the University in the class of 2004 with a Batchelors in Technology degree, his GPA dropped to 3.9 but I think that is just great. Peter has also once again taken positions in public service. He is chairman of our towns planning board and is chairman of our counties (Schoharie County) planning commission.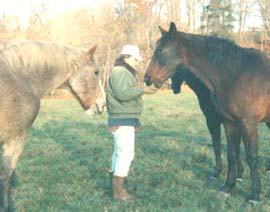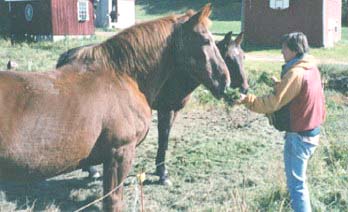 Peter on Moon Shadow Farm in West Fulton with some of his his horses.
I would like to add a few words about Peter, animals, women and children based on my 48 years with him. Long before the term horse whisperer became well known Peter was known to his friends as an animal whisperer. He loves all animals and they seem to sense it. His friends and I have all seen wild creatures in trouble respond to his kindness on numerous occasions. We have watched in awe as birds follow him through the woods and he engages in conversations with them. Women have always also sensed some thing special and unusual in Peter. The hundreds that have been close to him over the years have always found him to be warm, conciderate and quite wonderful. Though his three marriages ended in divorce he, myself and his other ex-wives have remained quite friendly. While growing up he never heard the word "love" mentioned in his home. He has compensated by giving love to all who he befriends. Children are his favorite cause and he has and will drop whatever he is doing to go to the aid of a child in need. He might not want me to mention it but when Peter inherited a fairly sizable fortune from his father's estate he promptly gave much of it away to friends and others in need. So now you know a little about a few of this man's other accomplishments while he has created world known art and plays his amazing war game in which nobody dies..
To see some of Peter Shulman's paintings presented in a gallery format go to the Peter Shulman Gallery page.
Page and contents © Copyright 2016 Gaye Anne Himmelsbach all rights reserved