PETER SHULMAN'S WAR
|
home
A short biography of Peter Shulman artist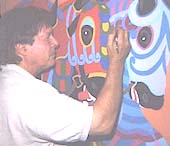 Peter Shulman began his career as a painter in the mid 1960's with no formal training. Within three months after completion of his first painting, his Pop Art "Fried Egg" paintings were featured at the prestigious Bianchini Gallery in New York City next to the work of Pop Art icons Andy Warhol and Roy Lichtenstein. Peter has never looked back. In the years since he began painting, his work has been in more than one hundred ten (110) solo and four hundred and fifty (450) group exhibits. He is a disciplined painter and a constant worker who tries to put brush to canvas 365 days a year. Shulman's self-taught, striking, hard-edged style is immediately identifiable. More than 2,000 of his acrylic, oil or enamel paintings on canvas and 5,000 signed and numbered limited edition prints (all small editions of 200 or less) have been sold and are featured in museums, universities and corporate offices, as well as in prized private collections around the world.
Describing his work, Shulman explains: "I am a concept painter. The subjects for my work start in my mind. Though some ideas bear fruit quickly on occasion it can take several years from the inception of a concept to its actually being drawn on canvas. What I hope to achieve is to stimulate the viewers enough to begin reflective thought. Whether they like the work or not is a matter of personal taste. If they have stopped, looked and thought, then I have achieved my goal."
"My style of painting is my own. I have never attended an art class so my style, technique and color sense come solely from within me. Each painting begins as a very detailed drawing. As I paint, I remove unnecessary detail to reveal the hard, central core of the subject. I love color and that is why pieces like the Carousel Horse paintings have a minimum of 35 colors. Having said that I should also note that in some subject areas I feel that just black and white with a possible spot of color bring forth the concept more forcefully. Pride and the Mother and Child series are examples of the impact simple black and white can achieve."
"After I finish each piece of work, a wonderful moment occurs. I stand back and think 'WOW I actually created this.' There is a combined physical and mental feeling of joy that cannot be adequately put into words but many artists feel it. If that moment ever stops coming, I'll stop painting."
Below are a few quotes from reviews of Peter's shows over the years:
"He paints in a flat hard-edged manner while never abandoning the intrinsic beauty of form or color."
"Shulman's works have an impressive form and immediacy."
-The New York Times
"...cotton candy coated barbed wire realism"
-The New York Daily News
"...exciting, representational art, masterfully executed."
-The Miami Herald
"Shulman is unique, both conceptually and in technique."
-The Manchester Union Leader
"His artistic activity has resumed with a flourish."
-The Cape Codder
"...typically impeccable workmanship."
-The Cape Cod Times
"...gripping realism, innovative technique."
-Los Angeles Times
"A great imagination combined with true artistic competence.
" Shulman's people are painted with deep feeling and conviction. Startling hard-edged art."
-Newsday
To see some of Peter Shulman's paintings presented in a gallery format go to the Peter Shulman Gallery page.
Copyright © 1998 - 2016 Peter Shulman all rights reserved